What It's All About
I am passionate about helping moms uncover their purpose and what really matters to them. Specifically, in a coaching session, I will:
Ask. I believe that you really do have the answers. I ask questions that gently probe and allow you to learn more about who you are.

Listen. I am an intuitive listener. Therefore, I listen to what you say, and what you donít say. I call it "listening between the lines."

Advise. I may share advice, ideas, and offer suggestions about a particular challenge.

Honor. I am here to help and support you.
An Example of My Approach
After having children, many moms find they sacrifice their own goals and ambitions. They are left with a loss of identity and individuality. Instead of "rocking the boat," many are resigned to a life of inner conflict; telling themselves that everything is fine; knowing that it isn't. If this describes you, and if you are ready to make a change, you are ready to hire Coach Working Mom.

First, we will determine where you are unfulfilled. I generally use the wheel of life exercise to expose this. We may also start off with a discussion about the word "selfish" and what it means to you. As a result, we may work to re-define that meaning.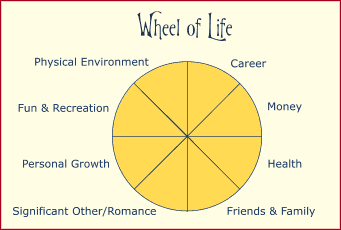 Wheel of Life exercise: The eight sections of the wheel represent balance. Regard the center of the wheel as 0 and the outer edge as 10 (10 meaning most fulfilled). Draw a line to indicate how fulfilled you feel in each area, as in the example.
The next step could be to make a list of activities you've always wanted to do. We may weave in exercises on your values and how they tie in with setting goals, rewarding yourself, and building a network of friends. These discussions take on a life of their own, which is the beauty of the coaching journey. I ask that you enjoy the journey and trust the process.

About Confidentiality
Please be assured that what we discuss in our sessions is kept confidential. How youíre doing, your accomplishments and secrets are safe and will not be shared.

Try it Out: The Complimentary Coaching Session
If you're wondering whether or not coaching is right for you, please take advantage of my complimentary coaching offer. This is an opportunity for you to get to know me and my coaching style. Before your appointment, I will ask that you complete a simple exercise. Doing so will give us a sense of where to begin.

Your complimentary 45-minute session will include the following:
General information about the practice of coaching
Actual coaching session related to previously assigned exercise
Review of my coaching practice, style and policies
Questions and answers
Sessions
Coaching sessions are done over the phone. You call me at a pre-scheduled time once per week. Each call lasts 30 minutes. Although clients may choose to meet with me in person, telephone coaching is more practical and efficient. So, there are no geographic limitations - you can work with me no matter where you live.

It is important to remember that your time slot has been set up just for you. So, it should be honored. However, in case of an emergency, adjustments can be made.

Custom Coaching Services
I will be glad to develop custom coaching formats if you desire. Rates will vary, and these services might include presentations or telephone workshops / training for groups (also called tele-classes).