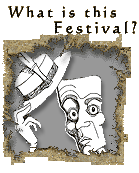 The Chapel Hill Anti-Shakespeare Festival, sometimes called CHASF (pronounced CHASS - uff), is a theatre event created, produced, and performed by the Somnambulist Project. This event includes three mainstage plays and, for the first time this year, other activities.

The three plays this year are "Androcles and the Lion", by G. B. Shaw, "Tennessee", by Romulus Linney, and "sprung!", by James McCusker. More information about these plays can be found here, and we have directions and schedule information on this site, too.

This year, we are also presenting an ambitious program of "special events" performances. Some of the groups performing with us:

festival schedule.

We perform these plays at the Forest Theatre, on the UNC-Chapel Hill campus, outside under the trees, sometimes in the rain (a little sprinkle only makes the dust stick better and the costumes hang a little differently). We shout over the cicadas and trucks. Sometimes, people show up early and bring a picnic dinner (you can't do that at Playmakers!). Basically, it's fun.

This is the seventh summer that we've presented the festival. If you're interested in learning about previous festivals or the Somnambulist Project, you can check out Jeffrey Detweiler's excellent Somnambulist Project site.

Oh, and the name doesn't mean that we're against Shakespeare or anything. It's just a name. It means that we're not a "Shakespeare festival", although we've done some Shakespeare plays in the past - with our own twist, of course.